record DFA 127 In-Head – swing operator concealed within frame
The record DFA 127 In-Head is an overhead concealed drive system for the automation of swing doors. This operator for swing doors utilises the trusted DFA 127 Core Drive system which is itself extremely quiet in operation. The mechanics and electronics are house overhead, concealed from view. This creates a seamless continuation of the framework.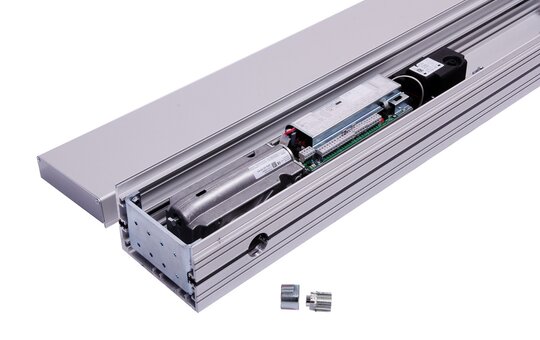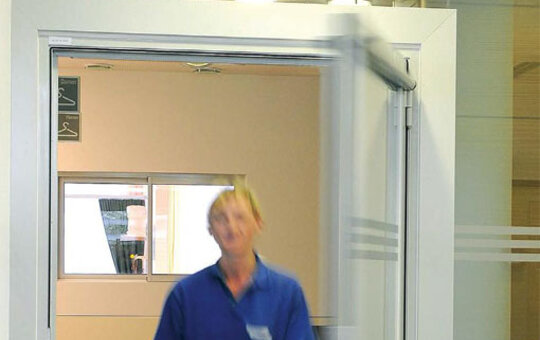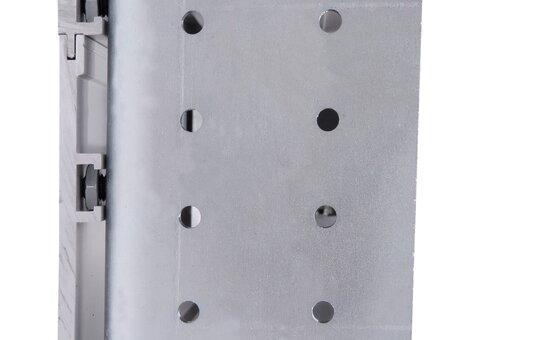 Streamlined and resilient
Encased in a thermally broken casing the DFA 127 In-head is suitable for almost all types of external and internal swing doors. The thermal break allows the internal surface to remain warm even when it's snowing outside – preventing heat loss.
Our In-head swing operator is just as suitable for disability access, nursing homes and hospital corridors where high-density traffic can occur and the requirements are for flexible operation, and reliability. The operator has been developed to cope with tough conditions yet the motor operates quietly and is completely silent during the hold open time. The DFA 127 In-head is particularly suitable for use where an especially streamlined profile is required. The door can also be held permanently open by using a programme selector.
Features:
thermally broken section
slim housing - just 140mm wide
utilises the trusted DFA 127 swing system
suitable for aluminium and glass doors
can be utilised with and without thermally broken frame sections
sleek, continuous framework
Benefits:
thermal building efficiency
no unsightly drive arms
minimalistic, clean, door look
faster installation time
anti-ligature - due to lack of protruding operator
easy to use control switch BDE-D
Options:
single or double doors
battery backup for power fail protection
Accessories:
| | |
| --- | --- |
| ITEM | CODE |
| DFA 127 CAN Isolator - Required for a Pair | REC-127808247 |
| BDE-D Switch and Programmer | REC-903808996 |
| Continuous Cover - Stainless - 3mtr Length | REC-127109450 |
| Continuous Cover - Aluminium - Per Mtr | REC-127108948 |
| 50mm Ext Spindle - Lever adaptor | REC-127808212 |
| 65mm Ext Spindle - Lever adaptor | REC-127808218 |
| 80mm Ext Spindle - Lever adaptor | REC-127808213 |
| Optex OA-Edge 900mm | AUT-SEN-OAEDGE 900 |
| Dummy Transom closer | AUT-DUM-TC9900 |
| HR50 - Uni-Directional - (Pivot Point) | GLB-206003 |
| HR50 - Bi-Directional | GLB-206004 |
| 4" Press Pad - Hardwired | GLB-257002 |
| 4" Press Pad - Larco Wireless | GLB-257004 |
| BDI-M - Allows fitting of key switch | REC-127808232 |
| 3 Position key switch (Auto, Closed, Open) | GLB-508101 |
| Morning Entry Keyswitch - A126 Key | GLB-508001 |
| Slim Surface Housing (Stainless Steel) | GLB-508103 |
| Slim Press Pad - Hardwired | GLB-257001 |
| Slim Press Pad - Larco Wireless | GLB-257016 |
| Larco - Receiver | GLB-257006 |
| Larco - Transmitter & Battery | GLB-257101 |
| Press Button Remote Fob | GLB-257102 |
| Toilet Door Locking System | GLB-307001 |
| FP200 Roller Fingerguard | SAA GLB-206604 |
| Eagle 1 Activation sensor | AUT-SEN-EAGLE1 |
| Hard Stop | REC-127808234 |