Automatic Swing Door Operators
The record DFA 127 automatic swing door can be used as the basis for a wide variety of swing door applications thanks to its advanced programmable micro processor and compact design. In addition, it is almost silent in operation which makes it additionally suitable in quieter environments. The versatility of this automatic door operator means it can also be used as a control system to provide fire and smoke protection and it is a system which can be extended with a master-slave function which facilitates two overlapping door leaves. The record DFA 127 is also available with 'in-ground' drive and 'in-head' drive operators where a particularly streamlined look is required.
The record DFA 127 is a universal drive system for the automation of swing doors. It is characterized by sophisticated technology, compact design and especially record's legendary smoothness of operation. Its exceptional versatility makes it suitable for a broad range of applications and widely differing requirements.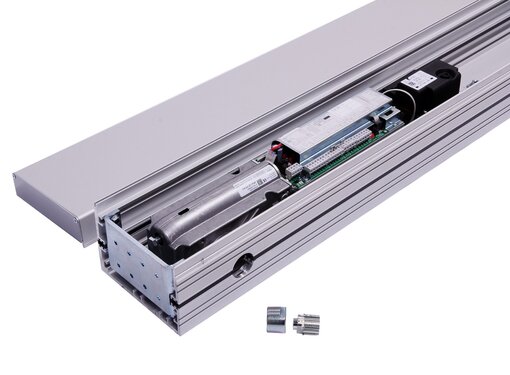 The record DFA 127 In-Head is an overhead concealed drive system for the automation of swing doors. This operator for swing doors utilises the trusted DFA 127 Core Drive system which is itself extremely quiet in operation. The mechanics and electronics are house overhead, concealed from view. This creates a seamless continuation of the framework.