Premier-Swing 85s – (now obsolete) - See DFA 127
The Premier-Swing 85s is a heavy-duty swing operator designed for today's busy entranceways.
The Premier-Swing 85s is simple to install and has an easy setup procedure. It uses an innovative, user-friendly, self-diagnostic system to identify faults. This ensures your installations and maintenance visits are as effortless as possible.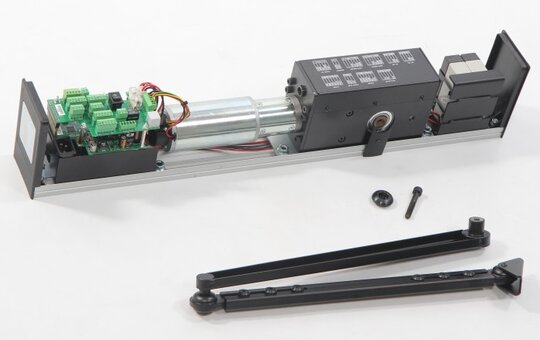 The Premier-Swing 85s is ideal for new door systems or retrofitting to existing doors. The unit is housed in an attractive aluminium casing designed to complement all building environments. The unit has dedicated inputs for activation sensors or press pads, safety sensors and electric locks.
Product Features
Designed and manufactured in the UK
Battery backup system as standard
Fully compliant with BS EN16005.
Discreet housing at only 85 mm high
Push and pull applications
"Low energy" mode
Full diagnostics
Your logo on the colour screen
Full adjustment via the access switch
Master/slave function
Kill function (for emergency locking situations)
4-position key switch output
Fire alarm input
Emergency stop function
Rebated door function