record DFA 127 – swing drive operator
The record DFA 127 is a universal drive system for the automation of swing doors. It is characterized by sophisticated technology, compact design and especially record's legendary smoothness of operation. Its exceptional versatility makes it suitable for a broad range of applications and widely differing requirements.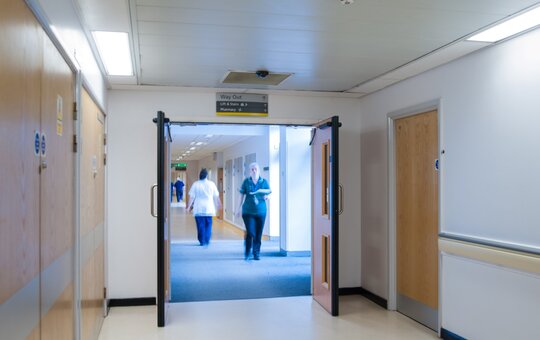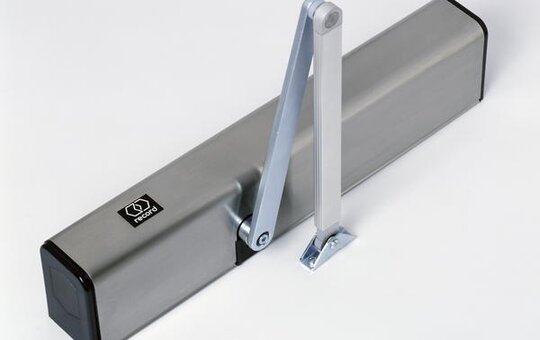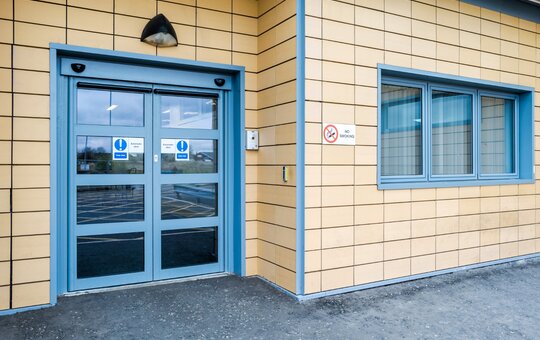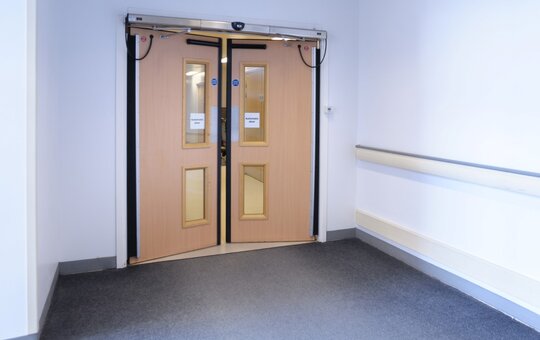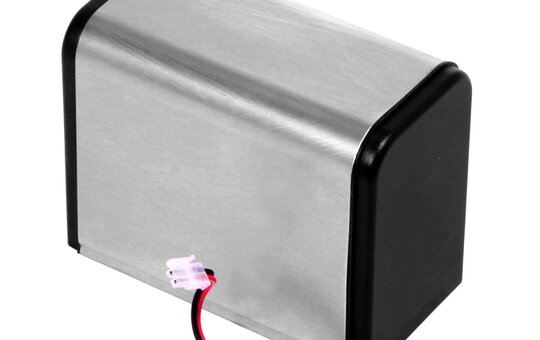 The DFA 127's universal qualities are mainly due to its electro-mechanical construction, and partly due to its modular design. When the door drive motor operates, it simultaneously tensions a spring integrated in the drive housing. The shutting movement uses energy stored in the spring, which, depending on requirements, is also motor-assisted. Even without motor assistance, thanks to ingenious mechanics, optimum power deployment is achieved in the entire door swing area. This is necessary to move the door reliably to its end position against draft resistance, for example, and also complies with the norms and standards of current safety requirements.
The record DFA 127 is available to operate doors in sizes EN4 to EN6. The different spring forces required can be quickly and precisely adjusted on the spot using the special adjustment screw.
This model can be adapted easily to provide additional functionality with no loss of integrity to suit specific requirements such as slower opening, fire resistance, inverse opening in case of power failure and other variations.
Features:
DIN 18 650-compliant technology, approved worldwide
adjustable spring force gives it great versatility
adjustable to accommodate customer-specific settings
optimum power deployment in full swing area
the opening stop is integrated into the door drive system (no hazard for pedestrians to stumble over)
no emergency power supply required to open the door
the electromagnetic parking brake means additional electrical opening devices on interior doors can be dispensed with capable of complex functions
practically silent operation
Variations:
double swing doors with or without master /slave operation
power saving mode: adjustable opening of one or both door panels (stretcher opening)
integrated sequential closing control for double-leaf fire door applications
interlock function for two single doors installed consecutively
direction-oriented opening for oncoming traffic in corridors
opening or closing without current
approved and certified fire protection
gerontology technology for slower opening and barrier-free access
Available with an optional "built in locking motor"
battery backup for power fail protection
Especially suitable for use in:
retail outlets
airports
administration and office buildings
restaurants and hotels
hospitals
residential and care homes
escape route openings
areas requiring heat and smoke to be vented
Accessories:
| | |
| --- | --- |
| ITEM | CODE |
| DFA 127 CAN Isolator - Required for a Pair | REC-127808247 |
| BDE-D Switch and Programmer | REC-903808996 |
| Continuous Cover - Stainless - 3mtr Length | REC-127109450 |
| Continuous Cover - Aluminium - Per Mtr | REC-127108948 |
| 50mm Ext Spindle - Lever adaptor | REC-127808212 |
| 65mm Ext Spindle - Lever adaptor | REC-127808218 |
| 80mm Ext Spindle - Lever adaptor | REC-127808213 |
| Optex OA-Edge 900mm | AUT-SEN-OAEDGE 900 |
| Dummy Transom closer | AUT-DUM-TC9900 |
| HR50 - Uni-Directional - (Pivot Point) | GLB-206003 |
| HR50 - Bi-Directional | GLB-206004 |
| 4" Press Pad - Hardwired | GLB-257002 |
| 4" Press Pad - Larco Wireless | GLB-257004 |
| BDI-M - Allows fitting of key switch | REC-127808232 |
| 3 Position key switch (Auto, Closed, Open) | GLB-508101 |
| Morning Entry Keyswitch - A126 Key | GLB-508001 |
| Slim Surface Housing (Stainless Steel) | GLB-508103 |
| Slim Press Pad - Hardwired | GLB-257001 |
| Slim Press Pad - Larco Wireless | GLB-257016 |
| Larco - Receiver | GLB-257006 |
| Larco - Transmitter & Battery | GLB-257101 |
| Press Button Remote Fob | GLB-257102 |
| Toilet Door Locking System | GLB-307001 |
| FP200 Roller Fingerguard | SAA GLB-206604 |
| Eagle 1 Activation sensor | AUT-SEN-EAGLE1 |
| Hard Stop | REC-127808234 |