record STA 20 – automatic sliding door operator
The record STA 20 is the well-proven classic sliding door system at the very centre of record's product range, and is suitable for almost any application. It is available as a double-leaf or single-leaf door set. The modular drive and profile systems guarantee a reliable and low-noise operation over long periods. The record system 20 is the first automatic door system featuring interactive communication, simplified commissioning, intuitive control and greatly enhanced operational safety and reliability. Depending on the customer's requirements, narrow, standard or robust glass profiles are used for the glass doors, and all models can be equipped with escape route safety systems.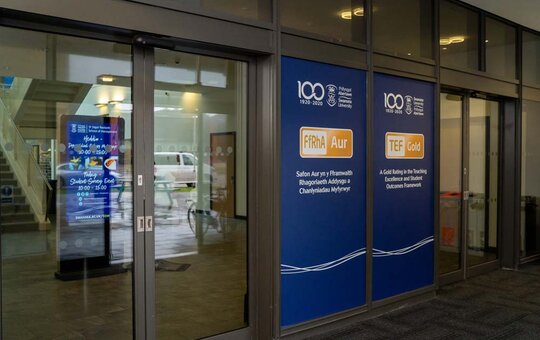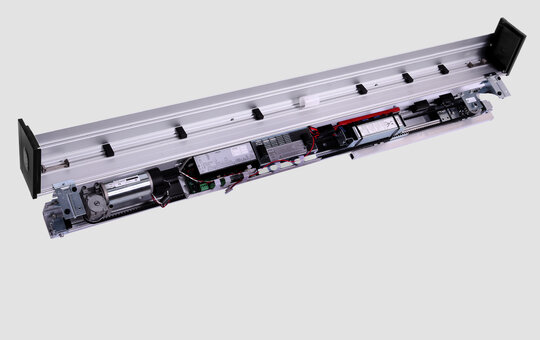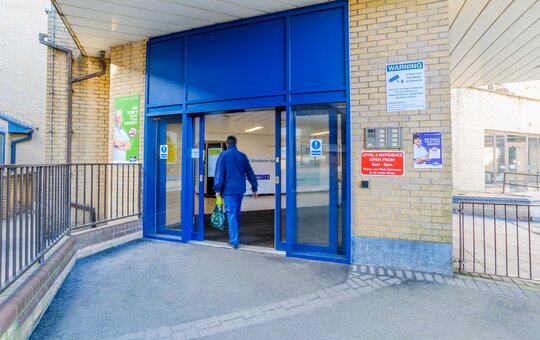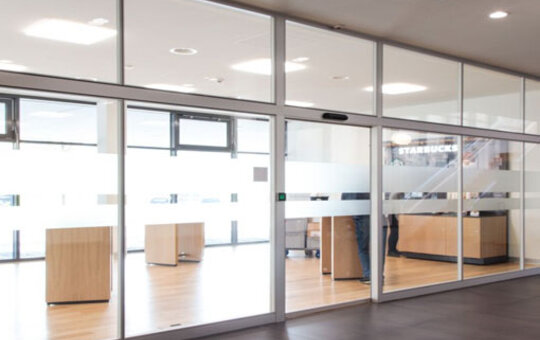 Beautifully functional, crafted, reliable and adaptable
The record system 20 forms the basis of our automatic sliding door drives. It enables us to provide a wide range of models all of which use the same components, modified to suit the needs of the individual customer. The result is quicker assembly, high reliability and with lower service and maintenance costs. The operational status of the door system and its individual electronic components also continuously undergo plausibility checks. Thanks to its learning capacity, the potential of the unit to malfunction is reduced to a minimum.
All our STA 20 Automatic sliding door operators are supplied fully built and tested for a fast and reduced site installation.
Operators are offered in stock lengths :
6000mm - Double Bi-parting Automatic sliding door operator
4700mm - Double Bi-parting Automatic sliding door operator
3000mm - Single Automatic sliding door operator
Bespoke Sizes and Finishes are also available upon request.
Features:
exceptionally quiet running door
quality performance
the drive unit can be fitted to the lintel, freestanding or integrated in the
ceiling
precision-made components and perfect matching of materials
interactive communication between components monitor and enhance
performance, safety and security
self-learning processor with active automatic adjustment provides optimum
operation
menu-led navigation
full diagnostics and programming capability of door control
the record system 20 fulfils 2006 / 42 / EG industrial guidelines for machines, DIN 18650 and all other relevant standards
Doors up to 65 mm thick can be fitted
Variations:
drive unit heights available in either standard 108 mm, or optional 150 mm / 200 mm
heavy duty option available
breakout options for escape safety routes
both profiles and drive unit cover can be anodized or powder-coated
key operated switch with menu is also available
full breakout – Total Open Systems available
STA 22 systems available for larger and heavier doors - up to 400kg (2x200 kilos)
opening widths of 800 mm to 3000 mm available
Accessories:
| ITEM | CODE |
| --- | --- |
| RIC290 (threshold safety sensor) CAN BUS | REC-290810174 |
| AIS290 (side screen safety sensor CAN BUS | REC -290810651 |
| RIC290 GC (threshold sensor) - Flush Fit - CAN BUS | REC-290808770 |
| AIS290 GC (side screen sensor) - Flush Fit- CAN BUS | REC -290810652 |
| SSR-3/BL - Activation & Presence (monitored) | GLB-206104 |
| HR94D1-C1/BL - Presence (monitored) | AUT-SEN-HR94D1S |
| WC/BL - Universal Weather Cover (HR100 / HR94) | AUT-SEN-WC/BL |
| Morning Entry Keyswitch A126 Key | GLB-508001 |
| Slim Surface Housing (Stainless Steel) | GLB-508103 |
| Nylon Block Adjustable Floor Guide | GLB-509202 |
| Floor Guide Channel To Suit- Per Mtr | GLB-509203 |
| record Floor Guide | REC-370046000 |
| Hotron BP5 - 1 Photocells | GLB-206301 |
| 4 Pos Key Switch (auto, closed, open, one way) | GLB-508104 |